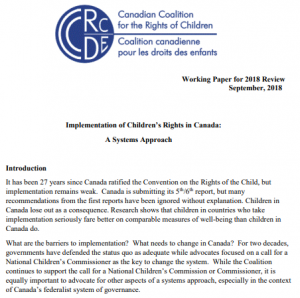 Systems Approach to Implementation of the Convention
After 27 years of weak implementation at both federal and provincial government levels, the Coalition invites discussion of a systems approach.  Children's rights can make governance for children work better, but systemic change is needed in Canada to achieve progress.  This discussion paper analyses the major barriers to implementation and suggests feasible structural changes, given existing systems of governance.  It is designed to move from the existing culture where children's rights are viewed as an additional burden in governance to a culture of seeing children's rights as an asset for good governance in Canada's federalist system.
Children's Rights Can Make Canada Work Better
Implementation of the Convention on the Rights of the Child would make governance work better for children.  Children do better in countries that take the Convention seriously.
It would help to close gaps between departments and levels of government.  Provinces are duty-bearers as well as the federal government.  The Convention can be helpful to integrate different policies that affect children.   A discussion paper by the CCRC illustrates why it is smart policy to implement the Convention.