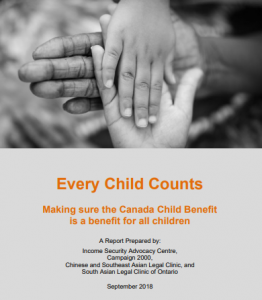 Canada Child Benefit Leaves Out Some Children
The Canada Child Benefit (CCB) is designed to help all families with the cost of raising children.  New research shows that rules set by the Canada Revenue Agency leave out some children, even though their parents may be paying taxes.  Children whose parents have irregular immigration status are not eligible for the CCB, even though they are considered residents for the purpose of paying taxes.  Discrimination against a child in a universal program, based on the immigration status of parents, violates Canada's duties under Articles 2,6,26, and 27 of the Convention.
Read the full research report (pdf), prepared by the Income Security Advocacy Centre, Campaign 2000, the Chinese and Southeast Asian Legal Clinic, and the South Asian Legal Clinic of Ontario.
Child Welfare and Children's Rights:
A discussion paper, prepared by the CCRC, asks questions about provincial child welfare systems, based on the Convention on the Rights of the Child.  It calls for substantive reform to protect the rights of children across the country.